I just love love love summer! The weather is nice of course, but the produce, oh my! So many tasty treats this time of year.
So my limited diet has become even more limited as of April 2015. I finally had allergy testing done and confirmed several suspected allergies and added quite a few more to the list. I was depressed about it for like a day, then I got to work on figuring out how to utilize all the things that I COULD eat in the most nutritiously, tasty way. So far so good, I think I've been coming up with some of my best recipes ever actually. This shift has forced me to think way outside the box and it's stretching my creatively but I find it incredibly stimulating. I don't feel sorry for myself at all, I'm feeling better and better physically and I'm eating some really amazing food. So no complaints here!
So while my safe food list has become increasingly more limited, one thing I can eat plenty of is salad. Now don't turn up your nose, we're thinking outside the box here remember. No iceberg lettuce with unripe tomatoes salad…no that kind doesn't exist in my world. I'm talking salads full of color, a wide spectrum of flavors, and packing some serious nutrition to boot.
Now lets get to making salad shall we.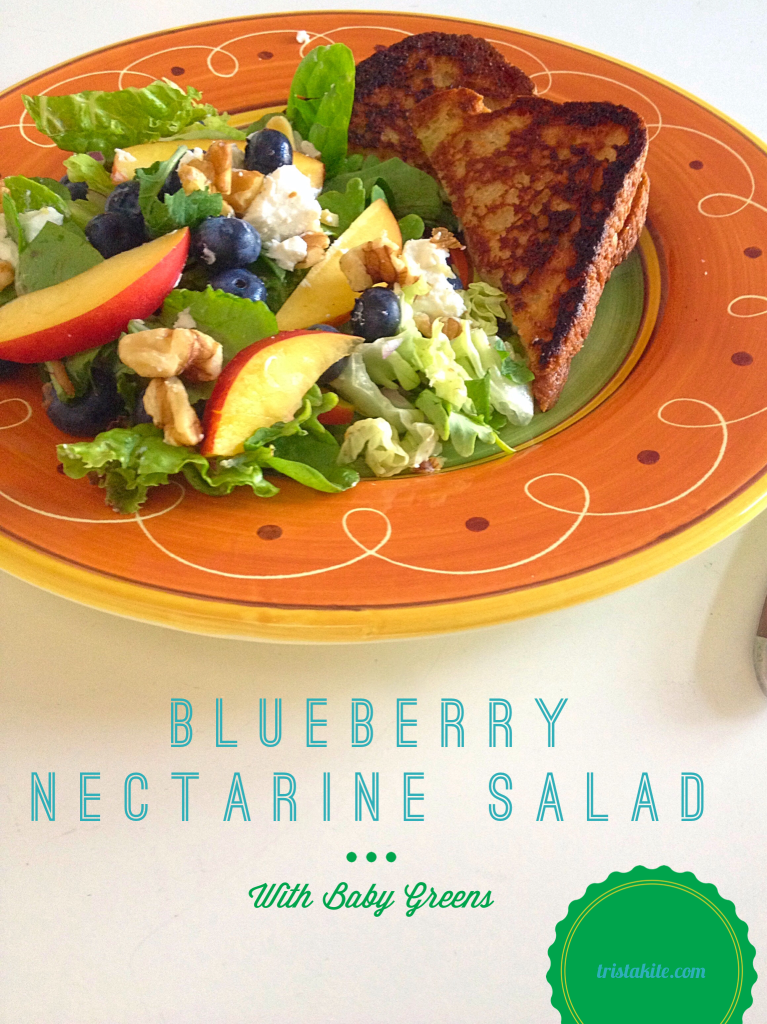 Blueberry Nectarine Salad with Baby Greens
3 cups mixed Baby Greens (kale, spinach, arugula, romaine etc)
2 Nectarines – sliced into thin wedges
1 cup fresh Blueberries – or more if you like, measurements aren't really that important here
1/2 cup fresh Walnuts, chopped
1/4 cup Red Onion, finely chopped
1 Tbsp Chia seeds (optional) I like to add these super seeds to whatever I can
1 Tbsp Hemp seeds (optional) but oh so good for you, so don't skip them if you have them
1/4 cup of your favorite vegan mozzarella, sliced thin (goat cheese would work well, if not vegan)
Combine everything in a large salad bowl and toss gently to mix. Serve with your preferred dressing or try my Maple Dijon Vinaigrette, recipe below.
We enjoyed this salad alongside gluten free, vegan grilled "cheese" sandwiches. I used a vegan loaf from Jenny Mae's Gluten Free Bakery whenever I'm visiting Central Washington I make sure to stock up on her goodies. She works magic! Then I used this cashew cheese recipe for the filling.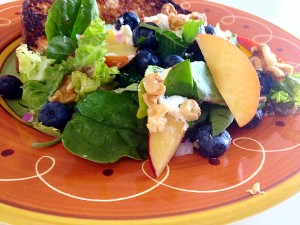 Maple Dijon Vinaigrette:
3 Tbsp Extra Virgin Olive Oil
3 Tbsp Pure Maple syrup
1 Tbsp gluten free Dijon mustard
Whisk together and store covered in the refrigerator for up to 1 week.