Yummm! This is my new all time favorite chili! It's not your typical vegan chili with tons and tons of beans and random veggies either, it's just a few simple ingredients, super quick and easy to make and only 1 pot to clean up! Woot!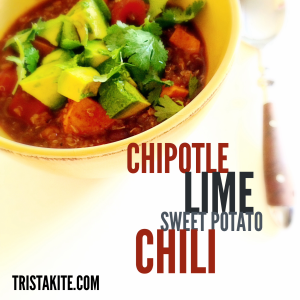 Here's what you'll need:
1 Tbsp oil for sauteing (I use avocado oil for it's nutritional value, mild taste, and high smoke point)
1 small-medium vidalia onion peeled and diced
4 cloves of garlic, peeled and finely diced
1 med-large sweet potato, peeled and cubed
15 oz of diced tomatoes
1 can of black beans, rinsed and drained
1/2 cup quinoa, uncooked
3.5 cups veggie broth
1/2 tsp sea salt
1 tsp cumin
2 Tbsp chili powder
1/4-1/2 tsp Chipotle chili powder, use as much or as little as you prefer depending on how much spice you like
4 limes, juiced, plus more for serving
In a large pot, heat the oil over med-high heat, add the onion and cook 5 mins until tender, add the garlic and chopped sweet potato and cook for an additional 2-3 mins. Add in remaining ingredients, except the lime juice, and stir to combine. Bring to a boil, then cover and reduce heat to low. Simmer for 20-25 mins until the quinoa is cooked and the chili has thickened. Stir in the lime juice and let the chili rest uncovered for 10 mins.
Serve with sliced avocado, cilantro and fresh lime wedges