I can't even begin to describe how in love my taste buds are with this recipe! Crispy and crunchy on the outside, tender and juicy sweet on the inside…it's perfection!
This is a 3 step process but it's not as complicated as it sounds so hang in there with me guys, because you don't want to miss out on this, trust me.
Fried Heirloom Tomatoes (gluten free, vegan)
2 large Heirloom Tomatoes (choose the rounder shaped ones for this dish)
1 cup Gluten Free Flour (I used sorghum)
1.5 cups Coarse Almond Meal (Bob's red mill is a good choice for this, honeyville is my normal go to but it's a little to fine to get that "bread crumb" consistency you want for this dish.
2 eggs worth of Ener-G Egg Replacer, plus a little extra water to thin it out as needed
3 Tbsp Nutritional Yeast
1/4 tsp Garlic Powder
1/2 tsp sea salt
1/2 tsp dried basil
1/2 tsp dried oregano
1/2 tsp dried parsley
Good quality, high heat oil – I used avocado oil, you need enough to cover the bottom of your frying pan. Virgin Coconut oil would work too but may impart some coconut flavor to the dish.
Slice the tomatoes into rounds approx 1/2 inch thick. Once tomatoes are sliced sprinkle with a pinch of sea salt, let them sit while you prepare your "breading" station.
Place the 1 cup of gluten free flour in a shallow dish or on a plate. In a separate dish mix up the "eggs", whisking until smooth. In a 3rd shallow dish combine the almond meal and remaining ingredients through parsley.
Add enough oil to your frying pan to generously cover the bottom, and heat over medium-high heat.
As the oil is heating begin to "bread" the tomato slices. Using a fork, dredge the tomato slices in the flour, then the "egg" mix, and finally in the almond meal herb mix. (If you notice the "egg" mixture getting thick as you work through the process, add a tsp of water at a time and whisk to thin it out again.) Place the coated tomato slices on a plate until you're ready to start frying. The oil should sizzle when a drop of water is flicked into the pan, if it doesn't sizzle, it's not hot enough. Fry 2-4 slices at a time, depending on the size of your pan. You don't want crowd the pan or the tomatoes will not brown evenly. Fry them until golden brown, about 1-2 mins each side then remove to a paper towel lined plate and repeat until you have fried all the slices. Keep an eye on the oil level in the pan and add more as needed, let the new oil heat up again before adding the next batch of tomato slices. You want them to cook quickly and sear in all that juicy goodness. If the temp of the oil is too low, it will not crisp up quickly and the tomato will get soggy.
Serve them up with a drizzle of balsamic vinegar and a sprinkle of fresh basil. If you want to get extra fancy make a stack layering almond or cashew mozzarella in between the tomato slices.
I hope you enjoy these as much as we did. It was actually my first time having fried tomatoes and I can't believe I've been missing out all these years, I plan to make this again very soon to make up for the lost time!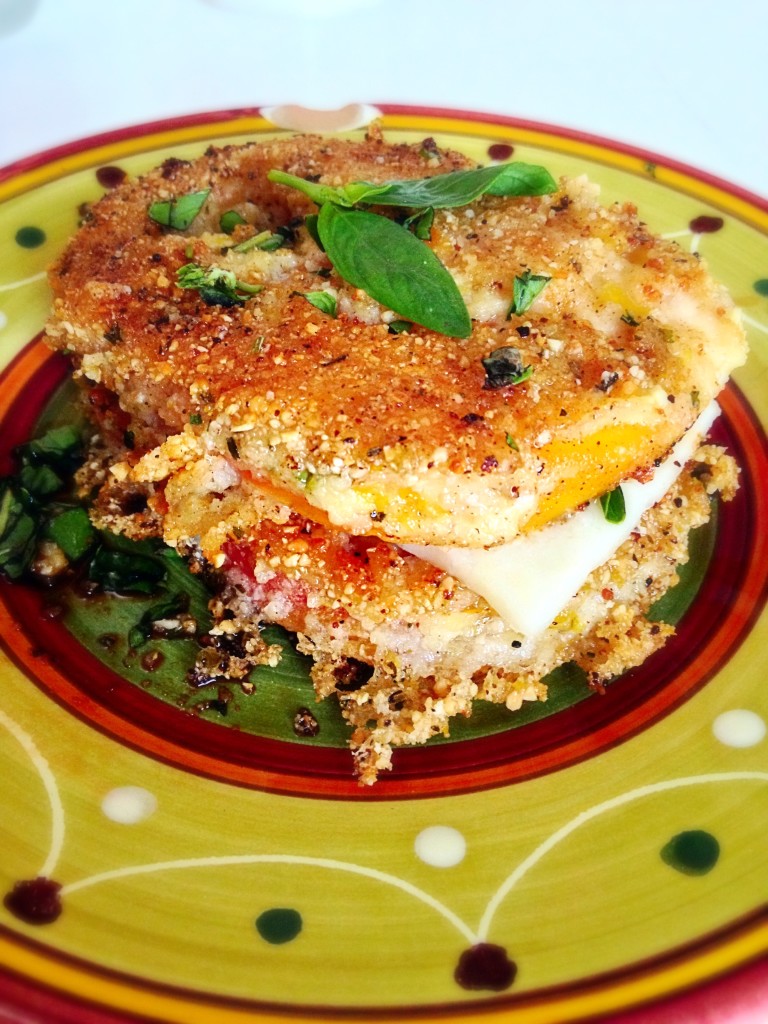 .