It's the beginning of tomato season and I am in heaven! It's funny, I hated all things tomato as a kid (except ketchup), I remember being totally disgusted when my mom ate a raw tomato in the garden. Now that's me! I can't get enough, tomato everything, all the time and heirloom tomatoes are my absolute favorite. Not only are they bursting with juicy goodness, they are so vibrant and colorful, I've got a tomato rainbow in my kitchen.
After cutting into one of the giants yesterday for my Gluten Free, Vegan Fried Tomatoes, I had more then half left over. I also had some fresh basil that was on it's last leg, chop chop, dice dice, I kept adding things to the bowl and it evolved into this delicious bruschetta. Serve this over crackers, toast, toasted baguette, or your favorite pasta. It amazing no matter how you decided to serve it up.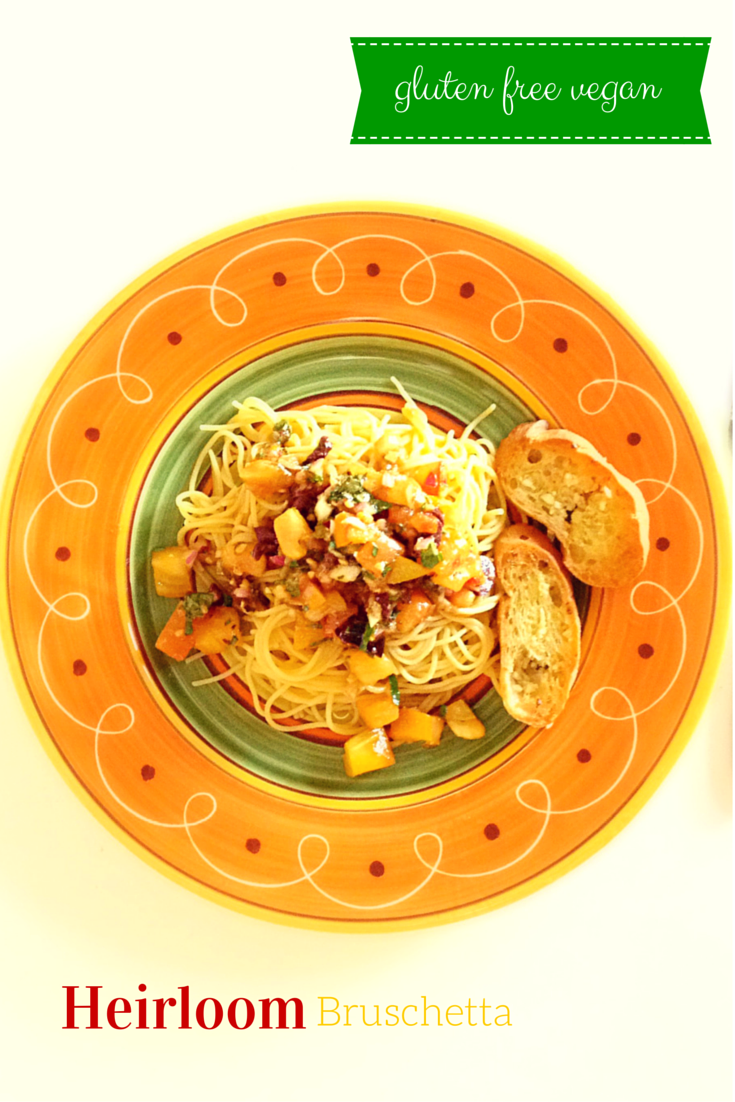 Bruschetta (Vegan & Gluten Free)
1.5 cups finely chopped heirloom tomatoes
1/3 cup loosely packed fresh basil , finely chop
1/4 cup red onion finely diced
3-4 cloves of garlic, minced
Small handful of kalamata olives, finely chopped
2 Tbsp Nutritional Yeast
3 Tbsp Extra Virgin Olive Oil
2 Tbsp Balsamic Vinegar
Scant 1/2 tsp sea salt
A couple cracks of fresh black pepper
Combine everything in a medium sized bowl. Cover and let it sit in the fridge to marinate until you're ready to serve it up.
I went with pasta and used Ancient Grains spaghetti noodles. For the garlic bread on the side, I added some minced garlic to extra virgin olive oil and brushed it over the slices then put them under the broiler until golden, about 5 mins. This gluten free, vegan baguette is by Olivia's Super Free.