Always Gluten free Always Vegan
It's a cupcake, it's a pancake….nope! It's a super quick and easy mug cake! Perfect for those Monday mornings when you just don't want to get out of bed….yawn.
Adapted from This Recipe with thanks!
Ingredients:
1/2 Cup super fine almond flour
2 Tbs Arrowroot starch (or tapioca)
2 Tbs Vegan Vanilla Protein Powder
3 Tbs Coconut sugar
3/4 tsp baking powder
pinch of sea salt
1/4 Cup plus 2 Tbs plant-based milk (I used unsweetened coconut milk)
2 tsp creamy peanut butter
Frosting:
3 Tbsp Plant-Based milk
1 Tbsp coconut sugar
1 Tbsp creamy peanut butter
1/4 Tsp vanilla extract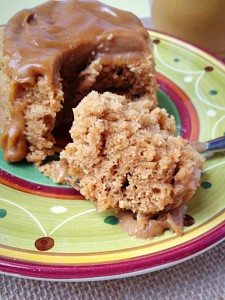 Combine dry ingredients, mixing well. Make a well in the center, add the plant-milk, then add the peanut butter. Using a silicon spatula mix the peanut butter into the milk first, then combine everything until a smooth batter forms.
Divide the batter even between two ramekins or mugs (no need to grease them).
Cook each cake for about 2.5 mins, it should spring back when touched.
Peanut Butter Vanilla Frosting: Combine ingredients except vanilla and microwave for 30 secs, stir in the vanilla then spread the frosting over the cakes. You can eat them out of the ramekin or if you want to turn it out onto a plate, run a knife along the edge, carefully invert the ramekin onto the plate, gently tap the bottom until cake slides out.
Eat immediately! Nom nom!