So I kinda of have a thing with quinoa bowls…if you follow me on Instagram or Facebook you may have seen a post, or two, or five of my various improvised quinoa bowls. They're just so tasty, so easy to throw together, and so nutritious. What's not to love?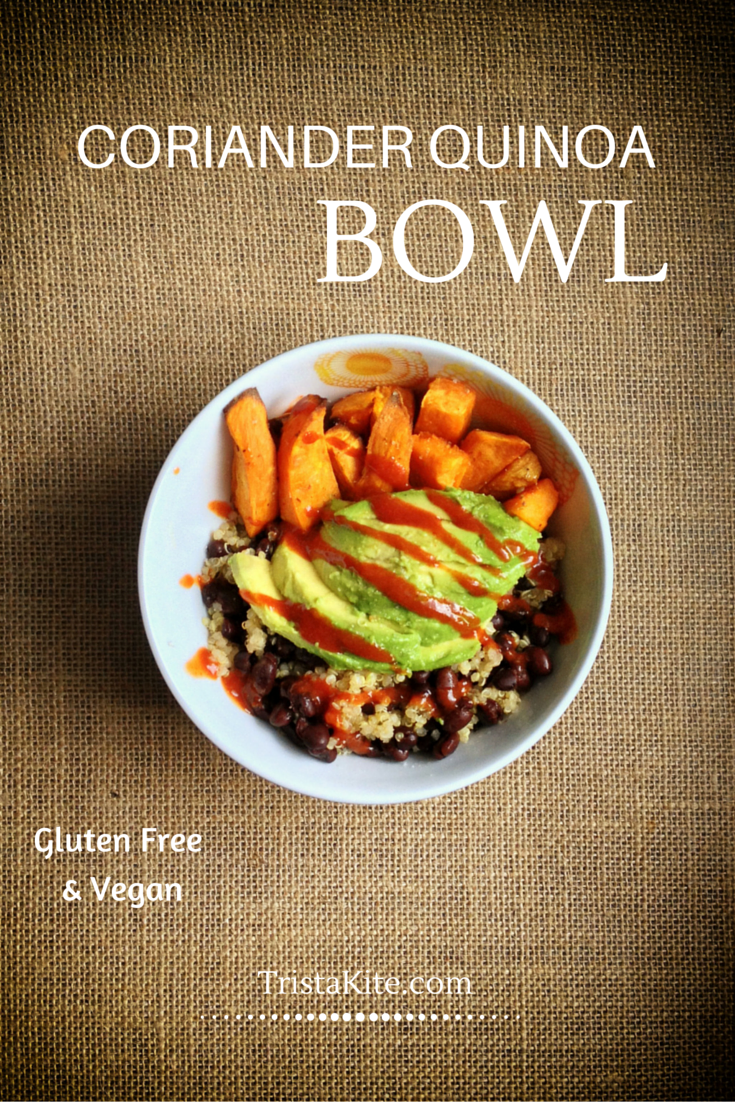 For this recipe you'll need:
1 large sweet potato
Olive oil or Avocado oil
1/2 cup quinoa (uncooked)
1 tsp dried coriander powder
1/2 tsp dried italian seasoning
1/4 tsp garlic powder
1 cups veggie broth
1 15oz can of black beans (rinsed and drained)
1 avocado
Sea salt, and pepper to taste
Siracha (optional…but not really)
Prep: Preheat your oven to 450F. Line a baking sheet with parchment paper or non-stick baking mat, chop your sweet potato into fries. Drizzle with avocado oil (or olive oil..but I highly recommend avocado oil for it's high smoke point), spread evenly onto baking sheet and place in oven and bake until tender, and browned, turning occasionally, approximately 20 mins. Meanwhile, add your quinoa, veggie broth, coriander, italian seasoning, and garlic powder to a pot and bring to a boil. Cover, reduce the heat and simmer approx 15-18 mins until liquid is absorbed, fluff with a fork and let it sit until your ready to assemble. If you wish to heat up your black beans you can toss them in with the cooked quinoa and cover while you get your bowls together.
Once the sweet potato and quinoa are cooked it's time to assemble:
Option 1) Divide the sweet potato fries between two bowls, carefully arranging to one side, next scoop your quinoa and black beans into the other half of the bowl. Top it all with sliced avocado, a sprinkle of fresh chopped cilantro, and drizzle with siracha.
Option 2) Toss everything into a bowl and chow down because you're starving and it smells so good, and you could care less about snapping the perfect top down shot of your food to post on your IG feed. Buuuuuttttt….if you do happen to make this and post a pic tag me because I'd love to see it! @trista_kite
Go stuff your face and enjoy!